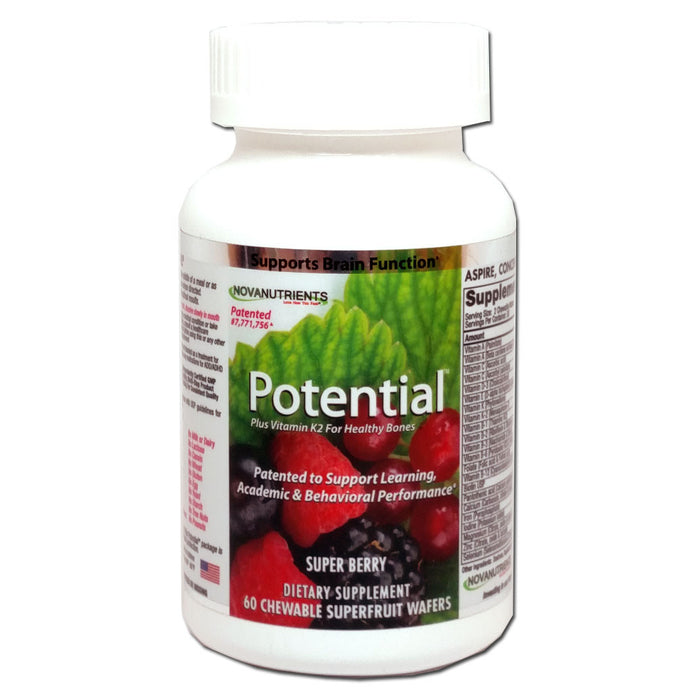 Potential - The Only Product Patented for Learning, Academic Performance & Behavior, 60 Chewables BACK ORDERED - PENDING ETA
Regular price $34.95 $29.95 Sale
**Expected ETA shortly.**
CLICK TO READ THE POTENTIAL BLOG
US Patent #7,771,756
Potential is a delicious, chewable multi-vitamin that offers astute parents and kids a patented advantage over other mass market chewable vitamins.
Potential contains:
No sugar
No artificial colors
No artificial sweeteners
No artificial flavors
No preservatives
Wholesome bioactive juices from superfruits & berries
Active Vitamin Forms
Natural Vitamin E
Natural Vitamin K2 (special Menaquinone 7)
Purity Matters
We take the extra step by testing for over 900 undesirable chemicals, pesticides, herbicides, drugs, caffeine and endocrine disruptors to ensure purity.
Click here to see over 900 toxic chemicals for which we test to ensure optimal purity.
Potential is the very first nutritional supplement designed specifically to support academic performance, learning and behavior and has been dispensed to thousands of US school children.
Watch and see why an entire school district dispensed Potential to thousands of children daily with this video that aired on PBS: "How to Turn Around a Failing School"

Click here to learn more about Potential.
LOVE HOW YOU FEEL®
*These statements have not been evaluated by the Food & Drug Administration. This product is not intended to diagnose, treat, cure, or prevent any disease.
*Potential is not intended as a treatment for or to replace any medication for ADD/ADHD.