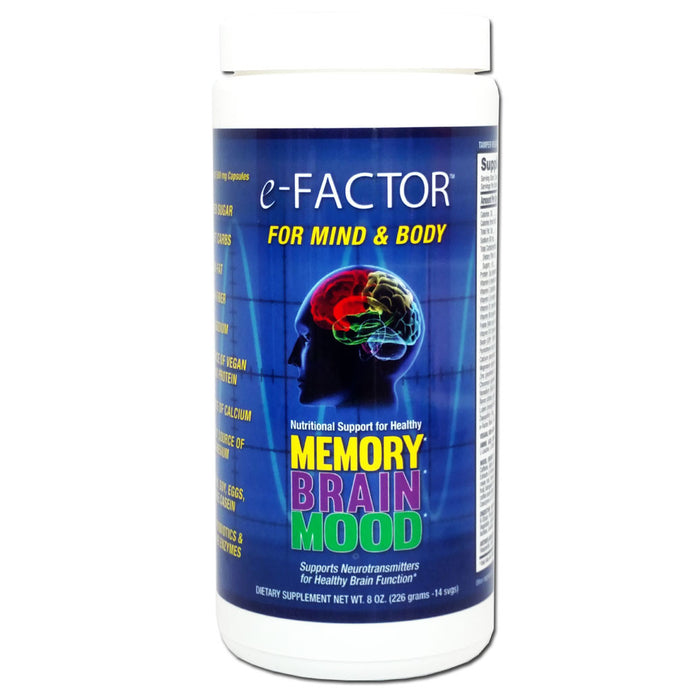 e-Factor Brain Supplement for Cognitive Function, Memory & Mood, 14 Servings
Regular price $49.95 Sale
Supports Memory, Brain Function, Mood and Mental Energy
Low calorie, Non-Fat, Vegan with No Sugar. Factor brain support supplement is low calorie, non-fat, vegan, has no added sugar and contains probiotics, magnesium and plant-based antioxidants that are used to optimize your mental performance and physical well-being.

The Brain Function Supplement You've Been Looking For.  e-Factor is a revolutionary cognitive support formula that provides the nutritional equivalent of more than 30 tablets/capsules in just easy to take drink.
very low calorie at only 15 calories per scoop
vegan
non-fat
has no added sugar
low sodium
low net-carb
good source of Non-GMO vegan protein, calcium & fiber
excellent source of magnesium
includes probiotics & digestive enzymes
plant-based antioxidants to optimize human performance
NO gluten, soy, eggs, lactose, casein
Click here to learn more about e-Factor.
Click here to read about e-Factor research.
LOVE HOW YOU FEEL®
*These statements have not been evaluated by the Food & Drug Administration. This product is not intended to diagnose, treat, cure, or prevent any disease.