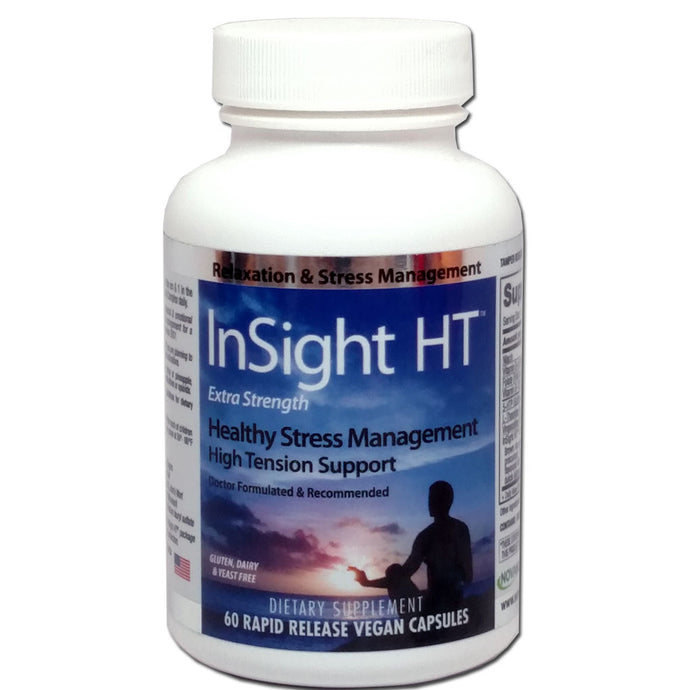 InSight HT for Relaxation, Mood, Stress Management & Relaxation, 60 V.Caps
Regular price $38.95 $35.95 Sale
InSight HT is a Mood Management Supplement to Help Better Manage Stress
Does your mind "replay" scenarios, constantly remind you of your "to do" list or has difficulty changing topics? You're NOT alone - InSight HT can help! InSight HT has been the choice of physicians for over a decade to help people calm and quiet mental behavior that can fuel anxiousness and stress.

InSight HT calming supplement combats, soothes and calms recurring thoughts, as well as relaxes a racing mind that won't rest and quiets emotions that create high tension and disrupt healthy emotional balance. InSight HT (High Tension) includes all the beneficial ingredients you'll find in our mood/attitude support product - InSight, plus additional vitamins that help with stress and anxiety to support better mood management skills during times of high tension.
Best of all, you don't need to wait days or weeks to notice a change.

Featuring Cocoa Flavonoids plus  Plant-Based Vitamins to Support Better Mood Management

InSight HT is great for:
Type "A" on-the-go people who have difficulty winding down & relaxing
Anyone who feels debilitated by stress, emotional fatigue or physical stress
People who tend to worry
When you have difficulty shutting off thoughts or worries that "replay" in your head
Individuals pressured by deadlines and heavy workloads
Anyone who needs an emotional boost to cope with chronic pain
Relaxation before a massage, acupuncture treatment, yoga or other therapy
When you're too energized to sleep
When you have had too much caffeine
Preparing for a restful night
Competitive athletes in intensive training who have trouble winding down after workouts
Click here to learn more about InSight HT & stress management
Click here for Stress Relief Tips to help you cope.
LOVE HOW YOU FEEL®
*These statements have not been evaluated by the Food & Drug Administration. This product is not intended to diagnose, treat, cure, or prevent any disease.