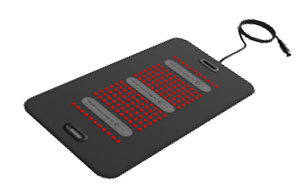 PEMF-LLLT Combination Pad
Regular price $1,750.00 Sale
FDA-Registered & Approved Class II Medical Device
Combines the benefits of Red & Infrared light with Pulsed Electromagnetic Field (PEMF) therapy, recognized for its powerful approach to pain management.
For sports and everyday life, this one of a kind combination of PEMF with Red and Infrared light gets you up and moving for life! Try it and feel the difference.
This is the most generously sized pad for larger areas that need more light.  Wraps completely around lower back, upper back, legs, arms, etc.
X3 subtle PEMF bar coils
176 Red & Infrared LEDs
Eyelets for Velcro easy body placement
Flexible wrap around
16" Length 8 ½ " Width
Recommended Controller(s):  1 Port, 3 Port, 6 Port
FREE STANDARD US SHIPPING